Mocapart, the avant-garde digital art gallery of motion, and the International ESports Federation have announced the launch of seven exclusive NFT collections to celebrate the 15th Esports World Championship. The medals of the winners of the 15th ES World Championship will be delivered as NFTs. For each game, a character from Romanian history will be illustrated in the style of each game and will be animated with the moves of famous Romanian sportspeople and actors.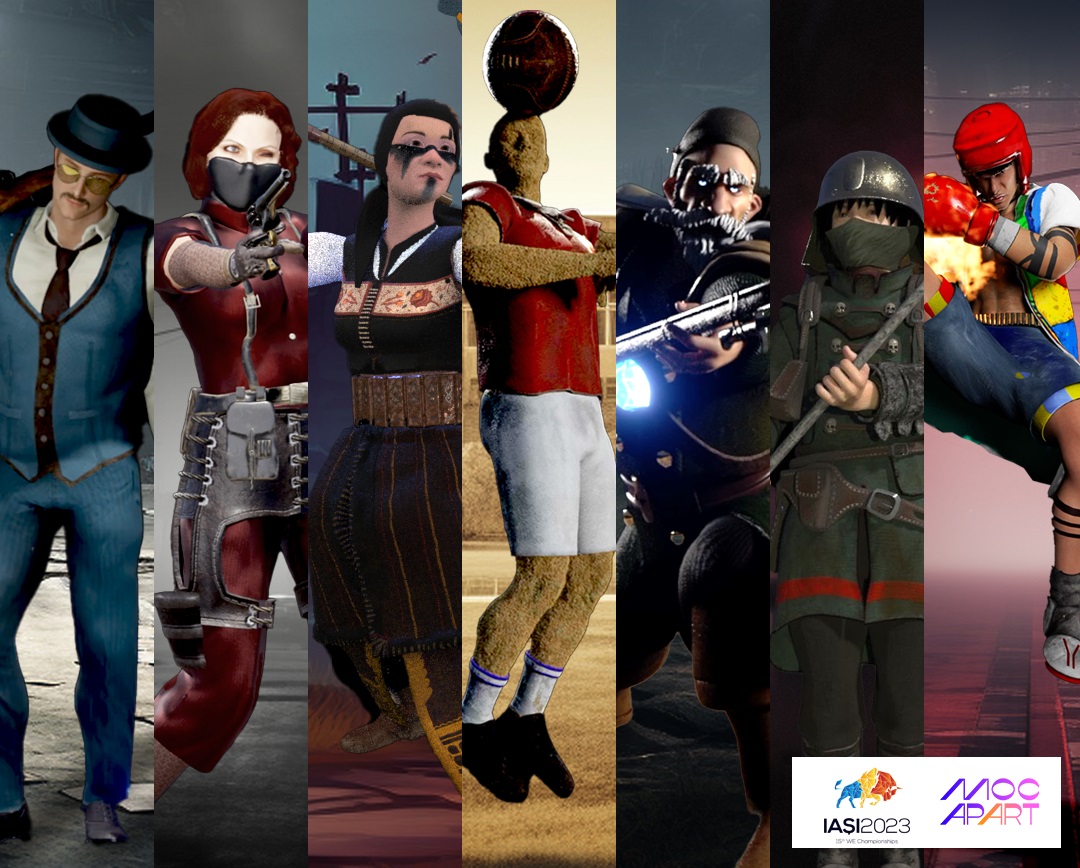 This initiative is more than just a tribute to the championship; it's a deep dive into the intersection of digital sports, Romanian history, and the finesse of the nation's most acclaimed athletes and actors. With the launch of 7 distinct NFT collections, each representing a game from the 15th ESports World Championship, Mocapart transcends the boundaries of art, gaming and cultural heritage.
As ESports solidifies its position in mainstream culture, Mocapart's collections celebrate this evolution. Each medal is a harmonious blend of game aesthetics, historical reflections, and an ode to renowned Romanian personalities. This fusion not only represents authenticity and uniqueness but also bridges the gap between the digital and tangible world.
The seven games highlighted — Dota2, Tekken, CSGO, CSGO Female, E-football 2023, PUBG, and Mobile Legends Bang Bang — will each see a legendary Romanian figure spring to life, animated with the essence and moves of iconic sportspeople and actors.
From the strength and prowess of boxer Gogea Mitu animated with K1 Fighter Cătălin Moroșanu's moves for Tekken to the grace and agility of Pelaghia Roșu enlivened by handball legend Narcisa Lecușanu for Dota2, each medal tells a compelling story. Whether it's the intensity of Peneș Curcanul's world rendered through Olympic Champion Simona Gherman's actions for Mobile Legends Bang Bang or the stealth and strategy of John Dillinger's wife, Ana Sage, depicted through Judith State's moves for CSGO Female, each medal symbolizes the relentless spirit of competitors.
In essence, while esports athletes navigate their digital battlegrounds, with Mocapart's medals, they also travel through Romanian history, imbibing the strength, grace, and skills of legends who came before them.
"Each medal is a meticulously designed work of digital art, a distinctive blend of game aesthetics, a drop from the history of Romania and references to renowned Romanian athletes and actors. This blend captures something more valuable than gold: it embodies authenticity, uniqueness and the amalgamation of the digital and physical realms. The medals symbolise the journey of e-sports competitors, navigating through the intricate labyrinths of digital worlds, tirelessly striving for mastery. They may appear lost to those unfamiliar with the realm of e-sports, but in reality, they're forging a new path of competition and recognition," said Dan Radu Mihai, co-founder of Mocapart.
"We are very pleased to work together with our partners to create this NFT Collection which celebrates the Esports World Championships that combine art and technology with educational and fun components, in order to motivate and instigate cultural heritage learning about Romania throughout our community. I strongly believe such projects which combine creativity, vision and values are the quintessential components to sparking interest in learning, today as well as in the future," said Vlad Marinescu, President of the International ESports Federation
To all esports enthusiasts, history buffs, and art collectors, Mocapart and IESF invite you to be part of this exclusive journey, where medals capture something more precious than gold — the heart of competition, legacy, and evolution.
About Mocapart
Mocapart is the first NFT art gallery of motion, pioneering the convergence of the human body and spirit within the digital art landscape. It serves as a marketplace for graphic and motion artists, showcasing story-driven collections of NFTs that seamlessly blend elements of Pop Art and digital performance. By emphasizing the unique signature of motion, Mocapart creates a bridge between the digital and real worlds, unlocking endless possibilities for creative expression and immersive experiences.
To learn more about MocapArt and how it is redefining the digital art landscape, please visit their website at https://www.mocapart.com.
About IEFS
IESF is the unifying body for Global Esports. It was founded in 2008 by nine member states and today consists of 130 member federations on five continents. The IESF brings together all Esports stakeholders to achieve a unified ecosystem for the development of sustainable and responsible gaming worldwide. The IESF WE Championships is the largest multi-sport Esports spectacle in the world. The IESF also organizes the annual Global Esports Summit to support the highest level of Esports governance worldwide.